ハーフサム 4・ HALF-SUM 4
石川源晃著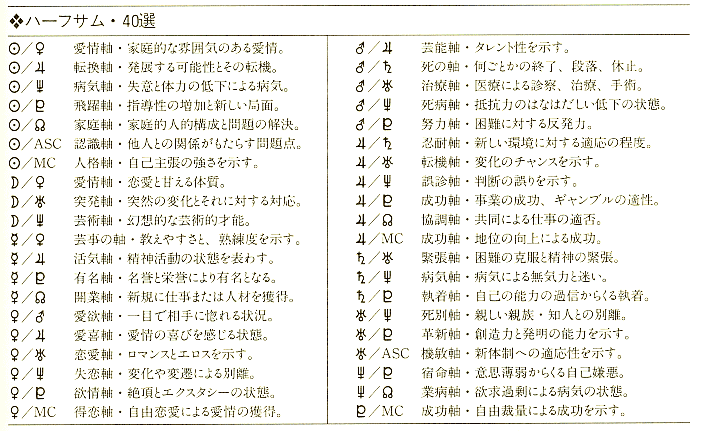 筆者は

ハーフサム四十選

を1992年に平河出版社刊・演習占星学入門に発表しました。

四十選

の天体を入れ替えれば、エバーティンの78個の 組み合わせが再現します。 たとえば、

四十選

の

治療軸

/

に 木星

が接触した形を変形すれば、

タレント軸

(能力軸)

/

に天王星

が接触した形になり、病変に直ちに適応する能力を持つ医師に出会う可能性を表示できます。
This author has selected forty set of HALF-SUM or so called mid-point out of seventy eight set of combination selected by Reinhold Ebertin. See the illustration above copied from ENSYUU-SENSEIGAKU-NYUUMON published by HIRAKAWA publishing Co. in 1992 released. You will find modified combination out of SELECTED FORTY SET of HALF-SUM. For instance, Jupiter contacts the medical treatment axis will produce Uranus contacts the talent axis of SELECTED FORTY SET of HALF-SUM that connoted the chance to meet a talented doctor with the versatile ability to cure an immediate disease that is taken.
ハーフサム四十選

で重要な組み合わせは金星と海王星が作る

失恋軸

/

です。海王星

は原因不明な 事件を表現しますから、

失恋軸

に、木星

以外の天体が接触している時期には 静かに災いが去ること を待つことが重要です。特に、トランジットの冥王星

は逆行と順行を繰り返して長期間接触します から、

失恋軸

/

にトランジットの冥王星

が接触する時期は言動を慎むことが重要です。なお、出生 の天体配置で、

失恋軸

/

と

治療軸

/

が数度以内に接近している人物は一生を通じ、医療事故に遭遇しやすい 人物ですから、トランジットの木星

が接触する時期を有効に利用することが重要です。
Another important indication in the SELECTED FORTY SET of HALF-SUM will be the broken-heart axis that is formed between Venus and Neptune. As the planet Neptune connotes a foggy disturbance, the HALF-SUM in the broken-heart axis will indicate the period of frustration that is hard to be cured by the effort wasted. During a long disturbance given by the transiting Pluto in the station, any effort will give the worse result. For a person born with a close arrangement formed between the medical treatment axis and the broken heart axis, the danger against the medical troubles must be guarded. A proper advice for giving the extra precaution to select a moment of contact made by transiting Jupiter to the operation axis in any medical treatment will be helpful.
単語のサイト内の検索はトップで・to TOP
次ページに重要記載・Useful advice will be given in the next page.